I'm excited to be teaching at Keytesville in the Business Department this year! A little about myself…
I actually retired May 2017 after 29 years of teaching. My first 7 years were at Knox County in Edina, and the last 22 were at the Linn County Area Career & Technical Center in Brookfield. After retirement I subbed, worked at Cupp & Wallace CPA during tax season, and finished the last 6 weeks of school as a long-term sub.
EDUCATION
Putnam County R-I High School — High School Graduate
Hannibal LaGrange College — Associates Degree in Secretarial Science
Culver Stockton College — Bachelors Degree in Business Education
Northwest Missouri State University — Masters Degree in Vocational Business Education
+30 additional hours in coursework training
FAMILY
My son Will, is a Sophomore at Brookfield High School. He plays trombone in the band, is in Boy Scouts, and has been bowling since the age of 3. He is in a bowling league on Saturdays and just finished a bowling scholarship league where he placed 2nd. He hiked 31 miles of the Appalachian Trail this summer.
Furry Human–Hersehy is our long-hair, chocolate, miniature dachshund and is spoiled beyond belief!
FAVORITES:
Color–purple
Food–Mexican
Soda–Dt. Mt. Dew & Water
Candy–Peanut butter M&M's
Music–Country & Christian
Hobbies–reading, singing, watching my son bowl, movies, being with family and friends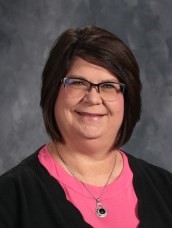 Contact Information
No Activities
Nothing Found
There currently aren't any updates to display. Please check back soon.