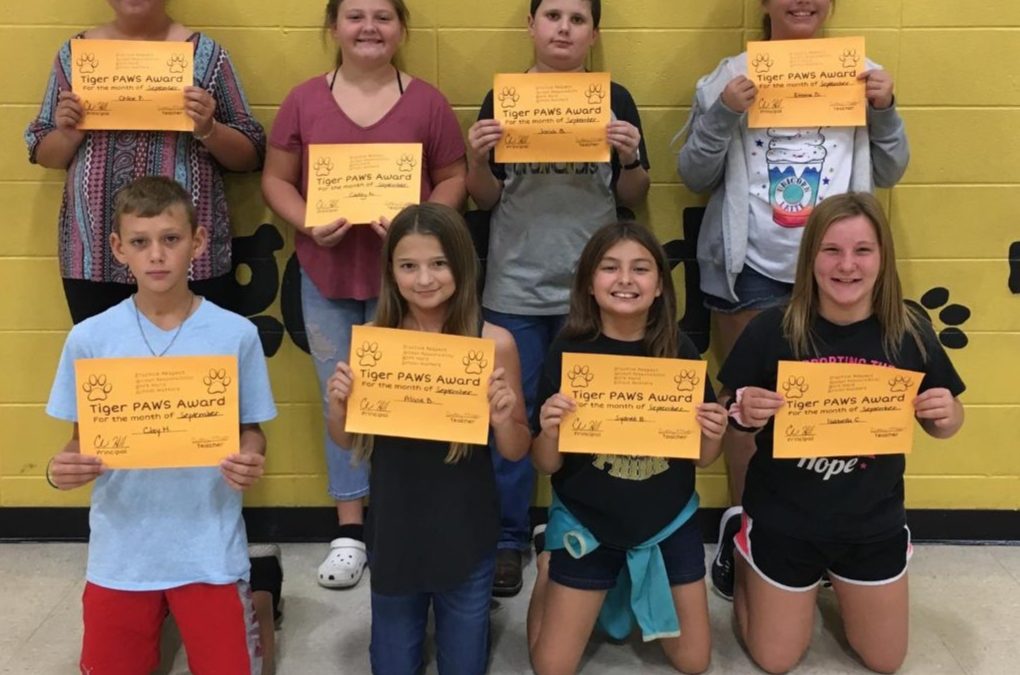 Each month, students at Keytesville Elementary are rewarded for PAWS. Paws stands for: Practice respect, Accept responsibility, Work Hard, School matters. In order to receive PAWS, students must meet the following criteria each month:  have a 90 percent attendance rate, have no late homework assignments, and have no discipline issues. This month, students receiving the PAWS award received an ice cream treat and an extra recess! The following students received PAWS for September:
Kindergarten (left to right): Jace S., Clinton H., Kristiana C., Rhylee N., Libby M., and Stetson K.
First grade (left to right):  Jayzen W., Raegan M., Riley B., Frank E., Chloe F., Tryson T., and Emma C. Not pictured: Easton C.
Second grade (left to right): Lane F., Mylee D., Addison J., Danica F., Chloe L., Waylon S., and Drake S.
Third grade (left to right):  Kameron F., and Clay B. Not pictured: Rhys. A and Brody C.
Fourth grade (left to right): Braxton D., Blake S., Kiera S., Allison R., and Ruby W.
Fifth grade (left to right): front: Clay H., Alivia B., Sydnee B., and Isabella C. back: Chloe P., Cadey N., Jacob B., and Emma D.
Sixth grade (left to right): Isaiah M., Jett V., Ethan T., and Damian W.
Photo Gallery
Recent Updates
News Categories